Specials
On the specials page, you can tell your customers about exciting new special offers! Add text, pictures, an expiration date, and much more. To edit your specials, just visit your administration area at your convenience!
Castelli Journal Special - While Supplies last
Elegant material with a double pen loop on front and back cover that hold book closed when pen is inserted. The medium ivory beige journal is an FSC™ certified product containing 240 lined ivory beige paper pages. 240 pages, ivory beige pages printed with gray lines, back pocket, pen loop & elastic band. 5 3/4" W x 8 1/5" H Available in Ruby Red, Dark Green & Black Minimum Quantity 100 Regular Price - $10.50/each Special Price - $8.75/each Pricing good while supplies last.
ChargerLeash 2in1 Smart Alarm Cable
ChargerLeash is a fully functional high-performance charge and sync cable with built-in intelligence that pairs or "leashes" your portable device with any USB charger. When you disconnect your device from the cable (power source) the ChargerLeash will alert you within seconds using an audible alarm. It is the only Smart Charge and Sync Cable with built-in alarm. Includes both Mfi Certified Apple Lightning connector and Micro-USB tip. 48 5/8" L Pricing inlcludes 4 Color Process of your logo. 12 - 23 - $31.00/each 24 - 101 - $25.00/each 102 - 305 - $24.00/each 306+ - $17.75/each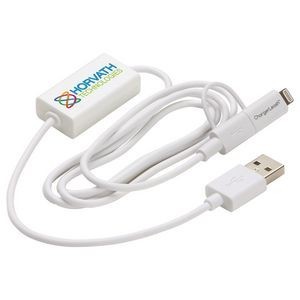 Medium Lione Journal
The Medium Lione Journal includes 256 lined, white pages printed in modern gray. Also, two ribbon markers in blue and silver. Lione is an earth friendly solution by combining 100% compostable material with elegance. 7" W x 9 11/16" H Manufacture minimum order is 100 units. No Set Up charges. Retail Price - $9.00/each - Sale Price - $6.00/each
8.5" x 11" Scratch Pad 2017 Calendars With Rules
Popular 8 1/2" x 11" Size! This 50-sheet scratch pad calendar with rules is great for taking notes, making plans, and much more! Each sheet includes a Display-A-Year Calendar. Always know the date when using this handy item! Custom look without the custom price! Your ad copy prints in black ink plus one standard accent color. 8.5" W x 11" H Pricing: 250 - $2.95/each 500 - $2.30/each 1000 - $1.98/each 2500 - $1.80/each
8.5" x 11" 2017 Scratch Pad Calendar
Popular 8 1/2" x 11" Size! This 50-sheet scratch pad calendar is great for taking notes, making plans, and much more! Each sheet includes a Display-A-Year Calendar. Always know the date when using this handy item! Custom look without the custom price! Your ad copy prints in black ink plus one standard accent color. 8.5" W x 11" H Pricing: 250 - $2.95/each 500 - $2.30/each 1000 - $1.98/each 2500 - $1.80/each
Marquis Delta Padfolio
Faux leather cover padfolio with a designated space for papers, a pen loop and business cards. Note pad consists of 50 sheets. 9" W x 12" H Pricing includes Foil Stamping. No Set Up Charges! 12 - $12.50/each 25 - $11.75/each 50 - $8.00/each 100 - $6.50/each
Marquis Ely Padfolio
Smooth vinyl cover 50 sheet note pad with Celtic knot pattern. Space for important papers, business cards and a pocket calendar. 9" W x 12" H Pricing includes Foil Stamping. No Set Up Charges! 25 - $7.50/each